Introduction to iMovie:
There are many video editing software but nothing can beat iMovie. iMovie is a awesome video editing software with lots of key features within it. iMovie can make a video by combining video clips and images together and more over background music also can be added with the video. It gives lots of options to apply many effects on video and also gives high definition video output which can be made compatible to  any devices.
iMovie is with very simple user interface, So there is no need of sound technical knowledge to work with this software. iMovie supports any video formats (Mobile Videos, Cam cord Videos, Online Videos etc.,)  that can be edited with it and it always gives best high definition output. iMovie contains many effects to make video a rich look and those effects can be applied in a single click. There is no need to work or spend long time to effect a video, Everything is easy with iMovie. There are more other options like adding text or sound to the video, Making a video to run faster or slower and the video can be saved in any format and also videos can be easily shared in youtube or burn in a CD. These advantages attracts many users and made them to use it without moving to any other video editor but unfortunately iMovie supports only on Mac and does not works on Windows. Many people would like to work with iMovie on Windows so they started to search for good alternative for iMovie. This article gives good alternative video editor iMovie for Windows.
Great alternative to iMovie for Windows Apowersoft Video Editor: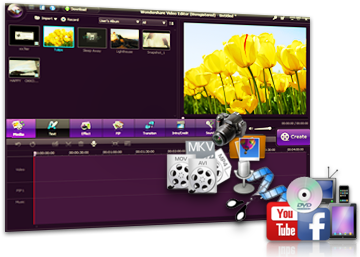 The iMovie alternative for windows is with very simple user interface and it perfectly suits for those who are beginners and also they does not need any technical knowledge to work it because this software is designed in a simple way. This video editor supports any format videos and it gives features to add photos, videos, sounds and more effects in a video.
Features:
  Import Photos and Videos:
One of the awesome feature with iMovie is adding photos and videos together, This can be done by clicking 'Import' button which is on the top left. You can Add Audios, Videos, Photos in the same way. It can also import files by drag and drop options. So you can import any audio video files easily. More over it also gives facility to record video if a webcam is connected with Computer. To edit any videos, Drag it to on timeline section which is at the bottom of the windows.

 Add Various Effects:
There are many effects that can be applied to  make your video to look attractive and rich. This can be done in a single click and hence you don't need any technical knowledge to apply these features. Just select any effects you need and drop it in timeline to apply those effects.
Personalize with Text and Music:
This feature enables you to add text and also background music to your video. To add Text to your video, just click "Text" then select any option you wish to bring it in your video, Just drag it to time line to apply the text. To customize the text and its fonts, double click the text icon on the timeline. Music files also can be added in the same way by select the music icon, selecting music and dragging it to timeline.
Speed Up or Slow Down Video:
This feature helps to play a video faster or slower as it need to be fixed. To make a video play faster or slower, Select video timeline, Click on edit and customize the speed by just adjusting the slider.

Save or Share Your Video:
After making your video neatly and attractively you can play it for preview and save it in computer in any format as you wish. A convenient video can by created which are compatible to any device . There is also options to share video in you tube and also options to burn the video directly on CD.
Trips to work with video editor:
To add any photos, videos or music files to the video select Import option and drag the files
To Add effects to the videos select effect and drag it to video timeline
To run a video faster or slower adjust the slider
Use share options to share video with you tube and also burn it on CD
Conclusion:
Imovie for windows Apowersoft Video Editor is a perfect video editing software which helps to edit or make any video easily and also helps to work with it in a easy way.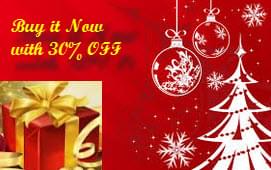 As a Christmas sale iMovie for Windows Apowersoft Video Editor provides offer to the buyers where they can get this video editing software in offer.  Apowersoft Software Promotion